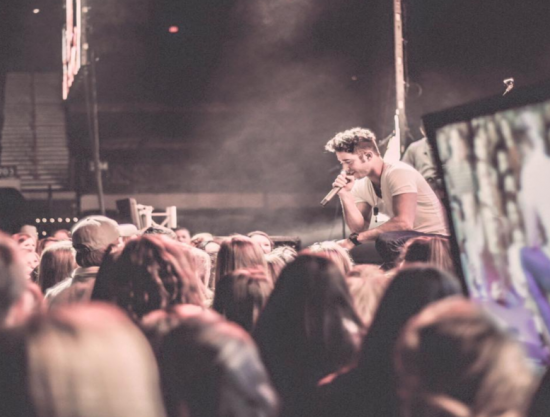 Student Mobilization (StuMo) is a non-profit, college campus organization that exists to build spiritual leaders for Christ from the college campuses of the world. Our passion is to build up student laborers into future leaders. The students of today will be tomorrow's business men and women, church leaders, missionaries, educators, community leaders and parents. Our desire is to equip them to live for Christ wherever they may go.
StuMo
is currently active in eighteen campuses across the Ozark, Heartland and Red River regions of our nation including the states of Colorado, Kansas, Missouri, Oklahoma, Texas and Arkansas. Coming soon are Arizona, Arizona State and Colorado State.Craig Strickland was very active in
StuMo
while attending the University of Arkansas from 2008-2010. He established countless relationships and made many memories. As a student Craig attended the weekly services on campus, the winter SMC conferences and the summer Kaleo program. After graduation Craig's band, Backroad Anthem, performed at the SMC conference in 2015 and was scheduled to headline the winter conference in 2016.
The Craig Strickland Foundation will help assist young StuMo staff members with fund raising awards for the school year. Also, the Foundation will award SMC Conference scholarships for the winter conference.
The Craig Strickland Foundation is proud and honored to announce that the Foundation is awarding 62 scholarships to the 2018 SMC Winter Conference!

Student Mobilization Staff Assistance
Name
Year
School
Recipient
Craig Strickland Memorial
2019
Oklahoma State University
Brittany Black
SMC Winter Conference
2019
Missouri State
Caleb Swearengin
SMC Winter Conference
2019
Missouri State
Lydia Schulte
SMC Winter Conference
2019
Missouri State
Danny Cochran
SMC Winter Conference
2019
Missouri State
Abby Melosi
SMC Winter Conference
2019
Missouri State
Hailey Newbrough
SMC Winter Conference
2019
Missouri State
Blain Lindsey
SMC Winter Conference
2019
Missouri State
Casey Buehler
SMC Winter Conference
2019
Missouri State
Brett Dietrich
SMC Winter Conference
2019
Missouri State
Amber Hieger
SMC Winter Conference
2019
Missouri State
Kevin Lee
SMC Winter Conference
2019
Missouri State
Carly Steffen
SMC Winter Conference
2019
Missouri State
Dalton Buschjost
SMC Winter Conference
2019
Missouri State
Shannon Rooney
SMC Winter Conference
2019
Missouri State
Melanie Kulig
SMC Winter Conference
2019
Missouri State
Avery Humphreys
SMC Winter Conference
2019
Missouri State
Alyson Voelker
SMC Winter Conference
2019
Missouri State
Olivia Lance
SMC Winter Conference
2019
Missouri State
Alissa Curtis
SMC Winter Conference
2019
Missouri State
Christine Minicky
SMC Winter Conference
2019
Missouri State
Skylar Woodward
SMC Winter Conference
2019
Missouri State
Libby Jones
SMC Winter Conference
2019
Missouri State
Emily Breunig
SMC Winter Conference
2019
Missouri State
Kayla Hill
SMC Winter Conference
2019
Missouri State
Tyler Herberholt
SMC Winter Conference
2019
Missouri State
Carsyn Bowman
SMC Winter Conference
2019
Missouri State
Savannah Nelson
SMC Winter Conference
2019
Missouri State
Sydney Robertson
SMC Winter Conference
2019
Missouri State
Lindsey Webb
SMC Winter Conference
2019
Missouri State
Kaitlyn Langston
SMC Winter Conference
2019
Missouri State
Colin Byers
SMC Winter Conference
2019
Missouri State
Brooke Fuhrmann
SMC Winter Conference
2019
Missouri State
Abbie Schellert
SMC Winter Conference
2019
Missouri State
Shelby Hicks
SMC Winter Conference
2019
Missouri State
Kaden DeVore
SMC Winter Conference
2019
Missouri State
Brendan Floyd
SMC Winter Conference
2019
Missouri State
Megan Lanter
SMC Winter Conference
2019
Missouri State
Cabriah Hillman
SMC Winter Conference
2019
Missouri State
Luke Banks
SMC Winter Conference
2019
Missouri State
Sae Choe
SMC Winter Conference
2019
Missouri State
kennedy kuhlmann
SMC Winter Conference
2019
Missouri State
Yiwei Li
SMC Winter Conference
2019
Missouri State
Jake Holden
SMC Winter Conference
2019
Missouri State
Jade Clubb
SMC Winter Conference
2019
Missouri State
Kilian Padavan
SMC Winter Conference
2019
Missouri State
Ariana Carroll
SMC Winter Conference
2019
Missouri State
Aubrey Todd
SMC Winter Conference
2019
Missouri State
Jodie Fox
SMC Winter Conference
2019
Missouri State
Dylan Lee
SMC Winter Conference
2019
Missouri State
Juanita Fiddmont
SMC Winter Conference
2019
Missouri State
Sarah Dreyer
SMC Winter Conference
2019
Missouri State
Stephen Redinger
SMC Winter Conference
2019
Missouri State
Hannah Wilferd
SMC Winter Conference
2019
Missouri State
Erin Bienz
SMC Winter Conference
2019
Missouri State
Hayley Van Ness
SMC Winter Conference
2019
Missouri State
Caroline Bonacorso
SMC Winter Conference
2019
Missouri State
Phoebe Groceman
SMC Winter Conference
2019
Missouri State
Cole Gordon
SMC Winter Conference
2019
Missouri State
Jaclyn Neff
SMC Winter Conference
2019
Missouri State
Chase White
SMC Winter Conference
2019
Missouri State
Blake Weiss
SMC Winter Conference
2019
Missouri State
Taylor Wohldmann
SMC Winter Conference
2019
Missouri State
Jaimie Pearce
SMC Winter Conference
2019
Missouri State
Christian Iverson
SMC Winter Conference
2019
Missouri State
Meghan Wise
SMC Winter Conference
2019
Missouri State
Kalee Jackson
SMC Winter Conference
2019
Missouri State
Gabbi Verble
SMC Winter Conference
2019
Missouri State
Jason Fabis
SMC Winter Conference
2019
Missouri State
Maddie Strunk
SMC Winter Conference
2019
Missouri State
Gabriel Palmer
SMC Winter Conference
2019
Missouri State
Jacob Cooper
SMC Winter Conference
2019
Missouri State
Ciera Moore
SMC Winter Conference
2019
Missouri State
Cade Allee
SMC Winter Conference
2019
Missouri State
Nick Durham
SMC Winter Conference
2019
Missouri State
Cole Phillips
SMC Winter Conference
2019
Missouri State
Jackson Elliff
SMC Winter Conference
2019
Missouri State
Logan Epps
SMC Winter Conference
2019
Missouri State
Kaitlyn Kleinschmidt
SMC Winter Conference
2019
Missouri State
Tyler Boehm
SMC Winter Conference
2019
Missouri State
Will Hughes
SMC Winter Conference
2019
Missouri State
Jimmy Walker
SMC Winter Conference
2019
Missouri State
Kaden Potter
SMC Winter Conference
2019
Missouri State
Garret Knight
SMC Winter Conference
2019
Missouri State
Rachel Compton
SMC Winter Conference
2019
Missouri State
Jensen Worsley
SMC Winter Conference
2019
Missouri State
Caitlin Pannell
SMC Winter Conference
2019
Missouri State
Renee Downing
SMC Winter Conference
2019
Missouri State
Anna Casey
SMC Winter Conference
2019
Missouri State
Darian Morris
SMC Winter Conference
2019
Missouri State
Logan Benner
SMC Winter Conference
2019
Missouri State
Kassie Sears
SMC Winter Conference
2019
Missouri State
Lauren Stevens
SMC Winter Conference
2019
Missouri State
Austin Polina
SMC Winter Conference
2019
Missouri State
Hayden Brown
SMC Winter Conference
2019
Missouri State
Maggie McMurray
SMC Winter Conference
2019
Missouri State
Samantha Lawson
SMC Winter Conference
2019
Missouri State
Sarah Lowe
SMC Winter Conference
2019
Missouri State
Daylin Huebotter
SMC Winter Conference
2019
Missouri State
Calie Griffith
SMC Winter Conference
2019
Missouri State
Nicholas Schmidt
SMC Winter Conference
2019
Missouri State
Whitney Owen
Craig Strickland Memorial
2018
Oklahoma State University
Brittany Black
SMC Winter Conference
2018
Missouri State
Sidney Thompson
SMC Winter Conference
2018
Missouri State
Annie Kremer
SMC Winter Conference
2018
Missouri State
Linsey Stanley
SMC Winter Conference
2018
Missouri State
Mary Hampton
SMC Winter Conference
2018
Missouri State
Lexi Browning
SMC Winter Conference
2018
Missouri State
Allyson Lenker
SMC Winter Conference
2018
Missouri State
Sarah Sabo
SMC Winter Conference
2018
Missouri State
Skylar Spell
SMC Winter Conference
2018
Missouri State
Jocelyn Weyer
SMC Winter Conference
2018
Missouri State
Ali Langston
SMC Winter Conference
2018
Missouri State
Molly Korte
SMC Winter Conference
2018
Missouri State
Tori Randell
SMC Winter Conference
2018
Missouri State
Savannah Jochem
SMC Winter Conference
2018
Missouri State
Emma Lieb
SMC Winter Conference
2018
Missouri State
Cassidy Joiner
SMC Winter Conference
2018
Missouri State
Kathryn Gardner
SMC Winter Conference
2018
Missouri State
Tianna Fry
SMC Winter Conference
2018
Missouri State
Aubrey Todd
SMC Winter Conference
2018
Missouri State
Aly Aherron
SMC Winter Conference
2018
Missouri State
Addy Reardon
SMC Winter Conference
2018
Missouri State
Hailee Vigneaux
SMC Winter Conference
2018
Missouri State
Maris Estrada
SMC Winter Conference
2018
Missouri State
Daniel Dodd
SMC Winter Conference
2018
Missouri State
Eric Reyes
SMC Winter Conference
2018
Missouri State
Alex Lorenz
SMC Winter Conference
2018
Missouri State
Andre McIntyre
SMC Winter Conference
2018
Missouri State
Alex Nugent
SMC Winter Conference
2018
Missouri State
John Sebag
SMC Winter Conference
2018
Missouri State
Jonathan Braun
SMC Winter Conference
2018
Missouri State
Zach Langford
SMC Winter Conference
2018
Missouri State
Matt Ruzicka
SMC Winter Conference
2018
Missouri State
Santiago Mendez
SMC Winter Conference
2018
Missouri State
Nick Little
SMC Winter Conference
2018
Missouri State
Dylan Lee
SMC Winter Conference
2018
Missouri State
Raffy Dizon
SMC Winter Conference
2018
Missouri State
Gordon Hartweger
SMC Winter Conference
2018
Missouri State
Scottie Chavez
SMC Winter Conference
2018
Missouri State
Matthew Csolak Akl
SMC Winter Conference
2018
Missouri State
Josh Call
SMC Winter Conference
2018
Missouri State
Garett Juergens
SMC Winter Conference
2018
Missouri State
Ryan Sylvester
SMC Winter Conference
2018
Missouri State
Cole Phillips
SMC Winter Conference
2018
Missouri State
Jake Saylor
SMC Winter Conference
2018
Missouri State
Braden Beck
SMC Winter Conference
2018
Missouri State
Brad Kluner
SMC Winter Conference
2018
Missouri State
Shane Beebe – Akl
SMC Winter Conference
2018
Missouri State
Brendyn Taylor
SMC Winter Conference
2018
Missouri State
Alex Wenner
SMC Winter Conference
2018
Missouri State
Alex Barnett
SMC Winter Conference
2018
Missouri State
Shon Miller
SMC Winter Conference
2018
Missouri State
Matt Howard
SMC Winter Conference
2018
Missouri State
Zach Lafferty
SMC Winter Conference
2018
Missouri State
Lane Sanders
SMC Winter Conference
2018
Missouri State
Jonathan Livengood
SMC Winter Conference
2018
Missouri State
Rudd Pickett
SMC Winter Conference
2018
Missouri State
Katy Fix
SMC Winter Conference
2018
Missouri State
Josh Bauman
SMC Winter Conference
2018
Missouri State
Jake Pridgin
SMC Winter Conference
2018
Missouri State
Boyd Mackey
SMC Winter Conference
2018
Missouri State
Max Martin
Craig Strickland Memorial
2017
Oklahoma State University
Brittany Black