Last week, I had the opportunity to take Ethan Jurik to the Arkansas-Alabama basketball game. Ethan was the first scholarship recipient for the Craig Strickland Memorial Scholarship given out to Shiloh Christian seniors. Craig's wife, Helen, is a teacher at Shiloh Christian and we were so pleased to establish the first scholarship at the school where she teaches. The school has been overwhelming in their support for Helen and our family and the love they have given!
Ethan is now a freshman at the University of Arkansas, majoring in Communications and then plans on pursuing ministry. Here is a picture of Ethan and me at the game.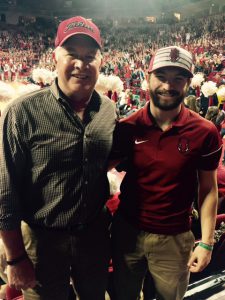 We are excited to announce that the Craig Strickland Foundation will be adding the following scholarships for the fall semester 2017, Newkirk, OK, Ponca City, OK, Alma, AR and Van Buren, AR. Additionally, the Foundation is laying the groundwork to provide intern support for Student Mobilization across campuses in Arkansas, Oklahoma and Missouri. Thank you for your donations.
In addition to our Memorial Dinner being held this Saturday, February 11, we have a golf tournament planned for Saturday, June 17 and several other events in the coming year.
God Bless!