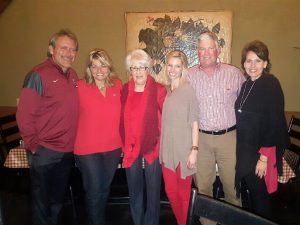 Pictured from left are Marty Burlsworth, Vickie Burlsworth, Barbara Burlsworth, Katie Ryburn, Randy Strickland and Julie Strickland.
When we were organizing the Craig Strickland Foundation, we sought out the Burlsworth family for their genuine advice and counsel. They joyfully met us for dinner after a very long game day in Fayetteville. The Burlsworth Foundation provides the opportunity for underprivileged children from all over the state to experience Razorback game days in Fayetteville and Little Rock. They are taken on a tour of the Broyles Complex and then get to march out on the field and be within inches of those huge football players. Players, as well as cheerleaders, mascots and even some special guests on the field autograph their shirts. The eyes of the children tell it all. These are the underprivileged of Arkansas. On that day over 70,000 people are looking at THEM and wishing they were on the field like the BURLS KIDS. Then they get to walk the sideline, past the Arkansas Razorback Marching Band and are taken to their special section in Reynold's Razorback Stadium. For more information about the Burlsworth Foundation and all the programs they have initiated, visit their website at https://www.brandonburlsworth.org/
We have become friends, and their love for us has certainly helped give us the confidence to continue Craig's legacy through the Craig Strickland Foundation.
Apostle Paul's description in Phillipians 2:2-4 of how he taught the Phillipians to live with each other reminds our family of the Burlsworth family.
"Fulfill my joy by being like-minded, having the same love, being of one accord, of one mind. Let nothing be done through selfish ambition or conceit, but in lowliness of mind let each esteem others better than himself. Let each of you look out not only for his own interests, but also for the interests of others."